Muddy Pinays features beautiful Filipinas getting muddy on location in the Philippines. We shoot exclusively outdoors in a manner respectful of the area and its traditions. All serious 'girls in mud' fans will appreciate the range of women, clothing and locations featured on this site.
Latest Scenes
Top Scenes
Based on ratings, hearts, clicks, sales, age, and other factors
Top Sellers
Bestselling scenes over the past week
Reviews
Sent by real customers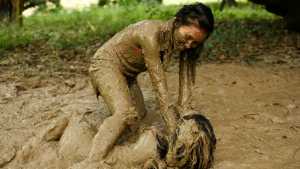 Great fun
Great fun watching these 2 girls get muddy and stripped too. Really great video.
They start off walking towards the bog, dressed in shorts and t-shirts. Rose is new to this type of thing, but soon gets warmed up.
They start throwing mud around and then pulling each others hair, then set about coating each other in the gloop
They wrestle a bit then start ripping the clothes off. right down to their panties.
In the end they both walk off, covered in the mud.
One thing would be to see nice to see them get showered off on the video.
-
paulhersh
4/14/23